The Walter Durfee Tubular Chimes grandfather clocks were the pioneers in bringing Grandfather Clock with Tubular Chimes Clocks to the USA.  Below is an early advertisement which not only talks about these amazing Walter Durfee Tubular Chime Grandfather Clocks, referring to them as Tubular Chime Hall Clocks, but it also shows the Authorized Dealers and Agents for the patented system they have in place.  You can see the text for the Walter Durfee ad, which we estimate was from circa 1900, and the actual ad itself, also below.  Note the ad referred to these grandfather clocks as Hall Clocks.  Also, generally speaking, grandmother clocks cases would be too small to house tubular chime clock mechanisms.  Most mechanical clock tubular chimes with 5 tubes play the Westminster Chime only and with 9 tubes play triple chimes, usually including St Michaels Chime and the Whittington Chimes.
Interestingly, today tubular chime grandfather clocks are still offered, but relatively few people in the general public, and even many grandfather clock enthusiasts, know little or nothing about them.  Howard Miller Clocks offers as its most expensive grandfather clock the J.H. Miller II Tubular Chime Grandfather Clock model 611-031 or 611031, in a Limited Edition, and shown just below: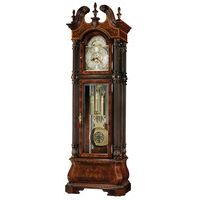 Howard Miller J. H. Miller II Grandfather Clock
List: $27,293.00
SALE: $19,105.10
The above clock is also offered without tubular chimes and still in the same amazing Limited Edition Case,  model 611-030 or 611030, and is known as the JH Miller Grandfather Clock.  Both of these clocks are more expensive than Howard Miller Presidential Edition Grandfather Clocks, which are considered by many to be the top of the line.
Howard Miller Clocks most expensive wall clock is very modern or contemporary, with an open case and tubular chimes, and named the Howard Miller Focal Point Wall Clock model 622-779 or 622779, and shown below: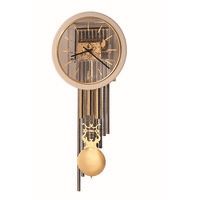 Howard Miller Focal Point Wall Clock
List: $11,575.00
SALE: $8,102.50
Hermle Clocks offers some Grandfather Clocks that are also Tubular Chime Grandfather Clocks, and include these models:
Hermle Triple Tubular Chime Worcester Grandfather Clock
List: $8,097.00
SALE: $5,263.05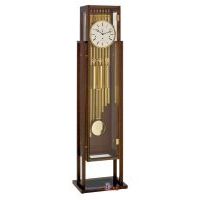 Hermle Triple Chime Essex Grandfather Clock
List: $18,379.00
SALE: $11,946.35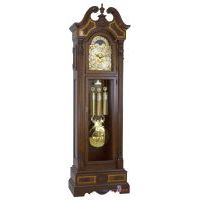 Hermle Foreman Cherry Tubular Grandfather Clock
List: $11,397.00
SALE: $7,408.05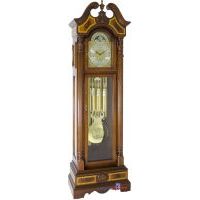 Hermle Foreman Walnut Tubular Grandfather Clock
List: $11,397.00
SALE: $7,408.0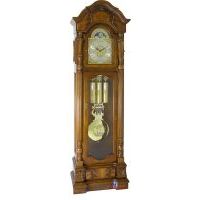 Hermle Anstead Walnut Tubular Grandfather Clock  Also available in Cherry and Oak wood models
List: $10,947.00
SALE: $7,115.55
Kieninger Grandfather Clocks also offers some high-end both contemporary and traditional tubular chime grandfather clocks.  An example of one contemporary Kieninger Clocks Tubular Chime Clock is shown, with model 0126-02-01, and pictured just below: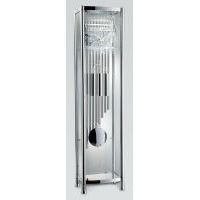 Kieninger Edwards Grandfather Clock   also comes is a brass-bronze contemporary clock case.
List: $24,130.00
SALE: $16,891.00
Some of these tubular chime grandfather clock models are the exact grandfather clocks that were offered by Sligh Grandfather Clocks and Bulova Grandfather Clocks.  Also, lead times can vary and new tubular chime grandfather clock models can be added and are sometimes discontinued.  It is always a good idea to call us at 1-800-4CLOCKS (1-800-425-6257, ext. 1) if you are thinking about purchasing one of any of these great tubular chime grandfather clocks.  At this moment, we do not have either and Walter Durfee antique tubular chime grandfather clocks or any Herschede Tubular Chime grandfather clocks. That can always change.
HALL CLOCKS.   This is the Walter Durfee Tubular Chime Grandfather Clocks Ad also showing authorized agents.  Picture of actual ad is farther down below with text just below:

Do you want something that will last? The most beautiful Wedding Present that can be given is something that will speak for the donor fifty to one hundred years.
Can you spend the amount and get more satisfaction for your money than by purchasing a beautiful Tubular Chiming Clock? The Tubular Chimes are like the chimes of a Cathedral from a distance. Changes of the weather do not affect them, as the tone is produced by the bell and does not depend on a sounding board.
These Tubular Chiming Clocks are fully protected by Letters Patent, and persons purchasing should see that every bell is stamped with our name.
They are sold only by our authorized Agents, and any infringement of our rights is subject to heavy royalty on either buyer or seller.
Clocks imported with Tubular Bells come under this infringement, as we control all U.S. Rights.
The List of Agents given below speaks for the superior quality of these clocks. Each Agent has Photographs of all our designs, which they will forward by mail on application.
AGENTS:
Theodore B. Starr, New-York,   Woods & Hosley, Springfield.
Spaulding & Co. Chicago.  Tilden, Thurber & Co. Providence.
Bailey, Banks & Biddle, Philadelphia.  Henry A. Turner & Go. Boston.
Jas. E. Caldwell & Co. "   Bradstreet, Thurber & Co. Minneapolis.
J. C. Grogan, Pittsburgh  Frank Herschede, Cincinnati.
Wright, Kay & Co. Detroit.     Jaccard Watch & Jewelry Co. Kansas City.
The Cowell & Hubbard Co. Cleveland.  Mermod & Jaccard Jewelry Co. St. Louis.
WALTER H. DURFEE & CO. Providence, Rhode Island