When shopping for heirloom quality grandfather clock discounts, educated grandfather clocks customers know to look for weight driven grandfather clocks and floor clocks.  Historically, weight driven clocks, including freestanding floor clocks like grandfather clocks, are the most precise timekeepers.  The weights may require adjustments up or don't to maximize accuracy, but in the past these timepieces were the best way to tell accurate time.  If there is a grandfather clock with 3 weights, almost always it its the center weight which is driving the timekeeping ability of the grandfather clock.  One of the other weights would be driving the chime portion of the grandfather clocks mechanical movement, and the third weight would be driving the hourly strike or gong grandfather clock mechanism.
Weight driven grandfather clocks can be either cable driven or chain driven.  A cable driven grandfather clock, which is wound in the clock's face or dial, usually with 3 holes, winding the clock in each hole brings up each of the weights, doing one at a time.  Generally a grandfather clock with this type of movement will last the longer, meaning longer than a chain-driven grandfather clock, which is wound by pulling down on the 3 chains one at a time, again with each weight performing the same function.  Chain-driven grandfather clocks are favored by many, they are usually much less expensive, but they have fewer frills and add-on features, and the mechanical grandfather clock movement will not last as long as that of a cable driven grandfather clock.
Both types of grandfather clocks movements, made by high-end German makers such as Hermle Clocks and Kieninger Clocks, will typically last 8 days, so if one winds the clock weekly, it will keep running continuously.  If you forget, it will not harm the clock to wing it up and start it up again, although we always recommend following the guidelines in your grandfather clock instruction manual.  Some of the featured included in many cable-driven movements but not chain-driven movement include things like triple chimes, automatic nighttime shut-off options, rotating vs. faux moondial, and usually larger and taller and more ornate grandfather clock cases.
Another consideration when looking for discount grandfather clocks on sale is that a cable-driven clock, will, in our experience and if not damaged by external forces, and with proper grandfather clock maintenance, should last 50-100+ years.  A chain driven grandfather clock, however, because so much strain is put on the movement being wound by pulling on chains, should though still reasonably last 25-50+ years with proper care and maintenance.  Clock movements can generally be replaced at a fraction of the cost of purchasing a new clock, although one should always consider the investment value of keeping the clock all original if possible.
Who makes these chain-driven weight driven and cable driven weight driven grandfather clocks?  Well, some of the highest end makers include Howard Miller Clocks, Ridgeway Grandfather Clocks, Hermle Clocks and Kieninger Grandfather Clocks.
Interestingly, weight driven wall clocks and less common weight driven mantel clocks generally have all of the same benefits, with the same pros and cons to each kind of movement.
Generally, if looking for the highest quality clocks, whether wall or mantle or grandfather clocks, assuming the maker is one of the good ones, it is difficult to go wrong with a weight-driven clock.  Weight driven wristwatches and watches, not so much!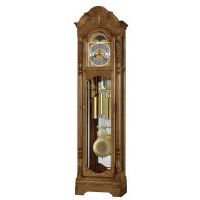 Howard Miller Layton Grandfather Clock
List: $3,375.00
SALE: $2,362.50
Weight Driven Howard Miller Layton Grandfather Clock model 611-118  611118