1-800-4CLOCKS.com is proud and excited to be introducing into our Authorized Grandfather Clock Dealer and grandfather clocks product the entire current selection of Americana Grandfather Clocks and Americana Grandmother Clocks.  A quick look at these Americana Floor Clocks will give you an appreciation for the incredible style and quality, not to mention amazing grandfather clock designs and additional grandfather clocks shoppers will now have in addition to the more established brands such as Howard Miller Clocks, Ridgeway Clocks, Kieninger Clocks, Hermle Clocks, and others.
In fact, the Americana Grandfather Clock company was founded by the individual who headed Ridgeway Clocks when it was a Division of Howard Miller Clocks for some years.  These clocks attempt to delight and wow the customer and floor clock shopper with gorgeous high quality for the most part triple chime grandfather clocks that are made of 100% of the type of wood that is described including Oak, Mahogany, Cherry and Rosewood.  The Americana Grandfather Clocks also feature both some wonderful examples of contemporary grandfather clocks and Traditional grandfather clocks.  Grandmother clocks too!
All of these models come with both an automatic nighttime shut-off and a working rotating moonphase dial – for those clocks that feature a moonphase dial.  All have German mechanical cable-driven movements.  Some have a dual lighting system which illuminates the case and in some models the dial as well.  Some even have the look and feel of genuine antique grandfather clocks and grandmother clocks or floor clocks.
There is also an amazing and helpful to prospective grandfather clock shoppers array of heights in the clocks, so that many can be considered grandmother clocks as well as grandfather clocks, the only real difference being the height.
All of the Americana Clocks have the wildly popular Westminster Chime, and some also have the Whittington Chime and the St Michaels chime as well.  The styles also include a white grandfather clock and a black grandfather clock, with the white grandfather clock being an especially tough one to find in a good quality grandfather clock brand.
It is absolutely worth expanding your horizons in your search for a grandfather clock.  Not only do we want to be the ones who Add Time to Your Life ™, but we also want you to have the grandfather clock with the greatest design and workmanship possible.
Here are some examples from the Americana Grandfather Clock Collection: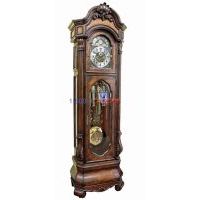 Americana Capitol Grandfather Clock
List: $6,150.00
SALE: $4,612.50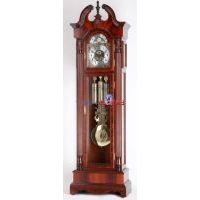 Americana Atlanta Grandfather Clock
List: $6,478.00
SALE: $4,858.50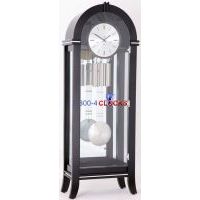 Americana Indio Grandfather Clock
List: $4,182.00
SALE: $3,136.50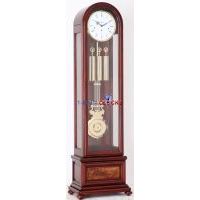 Americana Savanna Grandfather Clock
List: $4,510.00
SALE: $3,382.50