Made in America is making a comeback, and American manufacturing has certainly been a hot topic not only as General Motors has reborn into a competitive juggernaut, but also more broadly speaking as more and more lower wage jobs seem to be replacing more skilled higher paying manufacturing jobs.  Made in the USA has certainly been a focus of the presidential election debate, and no doubt will and should grow in importance in the coming decades.  Grandfather Clocks Made in USA, in addition to American-made wall clocks and mantel clocks, are likely to be an increasing percent of the high-end grandfather clocks marketplace.
Interestingly, the Company leading the way right now is Hermle grandfather clocks, which now offers a great selection of Made In America Grandfather Clocks, in addition to other offering.  Hermle Clocks is actually a German Company, which in a way makes the move to grandfather clocks production in the USA that much more intriguing and hopeful.  Having said them the only two remaining mechanical grandfather clock high-end movement makers are both German, and include Hermle Clocks and Kieninger Clocks movements.  So the case may be Made in the USA, but the high-end movement movements in the clock are still likely to b e German made, unless some big happens in the mechanical grandfather clocks movement market.
Our 1-800-4CLOCKS website also features some of Hermle clocks Made in USA, Virginia to be more exact, and we will be adding more Hermle Made in USA Grandfather Clocks in the coming couple of weeks.  Keep an eye out!
It should be noted that most all of the cases for mechanical grandfather clocks made by Howard Miller Clocks are Made in Michigan, USA, and this is true for Ridgeway Grandfather Clocks as well.  Howard Miller Grandfather Clocks and Ridgeway Grandfather Clocks both have German Kieninger mechanical movements, and Kieninger, although a German company, was acquired by Howard Miller Clocks about 10 years ago. Before this acquisition, Howard Miller used Hermle mechanical grandfather clock movements almost exclusively in their mechanical clocks.  For whatever its worth, our view is that the Kieninger grandfather clock movements in Howard Miller grandfather clocks and Ridgeway grandfather clocks are extremely similar in quality and functionality as the Hermle Grandfather Clock movements.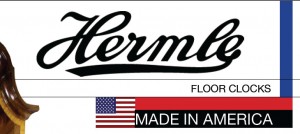 Hermle Grandfather Clocks Made in USA Line worth a special look!